The Future is Now: Evolving Challenges in Social Work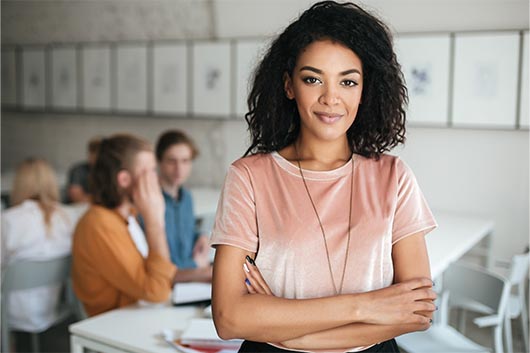 For over a century, social workers have been crucial leaders in addressing important issues facing our communities and the world. Ranging from topics such as social justice, economic inequality and the digital divide, one thing remains the same: the brilliance, dexterity and powerful impact of social workers makes a world of difference.
As the future continues to evolve, social workers are rising up to meet the needs of their communities in new, creative ways. The field of social work is at the core of immense opportunity and challenge. The agility and dedication to emerging needs have demonstrated how essential well-trained social workers are to the flourishing of our society.
In a time of change, how can you prepare for the evolving challenges of social work? The answer begins with education and practical training focused on equipping you for the future, whatever it may hold. Earning a Master of Social Work (MSW) can help you build the skills to not only anticipate emerging trends, but prepare you to thrive in the midst of them.
How is the field evolving? What is the impact of COVID-19 on social work practice? What is the future of social work? This article will explore those questions.
The Evolution of Social Work: History as a Constant Guide 
Social work has undoubtedly evolved from its earliest days over 100 years ago. For a field intentionally designed to address the dynamic needs of individuals, families, and communities, change is a given. However, the core objectives of social work remain rooted in a history that is vital to a healthy understanding and practice of social work, both today and in the future.
From the time the first social work class was taught at Columbia University, the heart of the work has been clear: serve people in need. Social workers have always endeavored to identify society's needs and to work privately and advocate publicly for solutions to those problems. Social workers are at least partly responsible for monumental progress in a number of areas, including:
Understanding and treatment of mental health issues

Advances in civil rights

Employee treatment and benefits

Social safety net programs such as Medicare and Medicaid

Child welfare and wellness

Substance abuse treatment
While the details and nuances of our needs change over time, the history of social work is key to its ability to address future challenges.
Download My MSW Online Program Guide
New Challenges and Achievements in Social Work
Working from that rich legacy, social workers continue to face new waves of challenges requiring creative solutions. This is always the case from one generation to the next, but the pace of change in recent years seems significant. The evolving challenges of social work are many and changing rapidly. We will focus on a few particular challenges, but this article highlights some of the realities social workers face in mental health settings.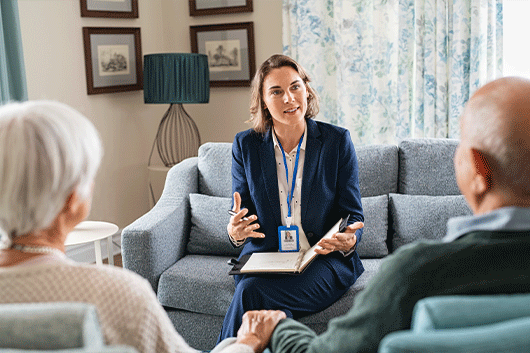 The Impact of COVID-19 on Social Work Practice
The emergence of the COVID-19 pandemic had a few clear impacts on the field of social work. First, it presented new challenges to day-to-day professional functions, some unique to social work and some common to the broader disruptions of the pandemic. Most notably, social workers were impacted by social distance measures and suddenly needed to find creative ways to assist and interact with clients.
The pandemic also introduced new sources of stress in virtually every corner of society. This amplified most of the difficulties social workers were already working to address in their various communities. The International Federation of Social Workers has identified several key themes in the evolving nature and challenges of social work during COVID-19, including:  
Prioritizing the increased, changing demands of served populations with limited resources or access to typical full assessments

Finding ways to create and maintain healthy relationships with the limitations of phone or internet communication or through personal protective equipment

Balancing the needs of the served with the personal risks to the social worker
Coping with fatigue and the need for self-care under such unusually taxing circumstances 
The value of quality social work is clearer than ever. Among the essential workers on the front lines of the pandemic were social workers finding ways to adapt and meet people in moments of crisis. Social workers have continued to serve with dedication and commitment, supporting children and families in crisis, working in high-risk venues like ERs with medical staff and patients on the front lines, and doing crucial work in many other settings.
What is the future of social work? How will social workers continue to cultivate skills, capacities and vision to carry them into the future? Recent experience has revealed an ever-growing need for advanced social work education that prioritizes a multi-faceted approach to training within a diverse student community. Changing times call for social workers who are ready to face the future, no matter where it leads. 
New Challenges, New Opportunities
The power of being face-to-face with the people we serve is undeniable, so the dramatic interruption of in-person visits was certainly one of the difficulties brought on by the pandemic. Suddenly, the world was navigating through shockwaves of social distancing, unexpected unemployment, isolation and much more. Creativity and agility prompted new practices and resources that empower social workers to adjust, respond and support communities in new and necessary ways.
Challenges have the power to become unexpected successes and new opportunities. For example, the onset of new COVID protocols exposed the inadequacy of internet access for many populations most in need of social work services. Even before COVID-19, many social workers were working to close the digital divide and adjust to emerging technology that opened doors to remote learning and remote work. 
Sarah Christa Butts, MSW, the Director of Public Policy at the National Association of Social Workers, highlights the doors that can be opened by this new focus on remote learning and work:
"Telehealth and specifically teletherapy, including audio-only telephonic services, have been largely enabled because of the pandemic public health emergency. We have an opportunity now to embrace telehealth and ensure much greater access to services for clients and patients. These developments and the shift to many students learning virtually may also result in support for internet access as a public utility--which would be great for underserved communities. We should embrace technology and ensure that no one is left behind."
Butts emphasizes the ways shifts to telehealth and teletherapy may enable a wider number of people to access social work services they desperately need. She also points to an intriguing possibility: that the availability of remote social work services could help instigate even broader social change by highlighting internet access in underserved communities as a need rather than a luxury.
Butts also alludes to the shift to online learning as another potential source for positive change. Online social work degree programs offer the obvious benefit of enabling students to advance their education no matter where they live. A quality online program also better prepares students for the undeniable trend toward telehealth since social workers who have learned online will be naturally more equipped to continue working in remote settings.

Social Work and Social Justice
Both of the difficulties mentioned so far underscore the broader dynamics of social justice. In most cases, these questions of equity and accessibility create challenges for social workers while also amplifying the importance and need of social work. As social workers stand on the front lines of these larger societal problems, in many cases, they also are largely responsible for the wider awareness of these issues that are necessary to address. 
For instance, we quickly learned that the elderly, low-income populations and minorities were among the groups at greater risk during the COVID-19 pandemic. Our capacity to identify public health and health equity realities, acknowledge their importance, and respond to them is partially a function of social workers, past and present.
There are also social work-relevant nuances to this particular dynamic, as the pandemic affected the physical and mental health of minorities differently. Andrea Heyward, deputy director of the Center for Community Health Alignment, points out the undeniable social dimension of this evolving public health crisis.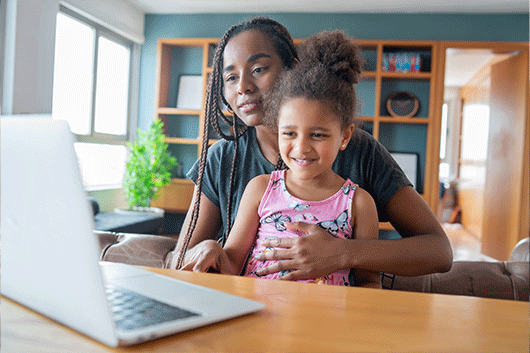 Any individual experiencing the stress of COVID-19, lack of access to healthcare, social determinants of health, in addition to experiencing the trauma of prejudice and racism would be impacted physically, emotionally, and psychologically.
The pandemic further exposed issues of ongoing injustice that demand attention, both in response to COVID-19 and in deeper, longer-lasting ways. Social workers have long helped lead the way in identifying and understanding these challenges. Forward-looking training for social workers is key in these areas. That requires programs that emphasize diversity under the direction of caring, student-centered experts.
The Future of Social Work and the MSW
The challenge of the last few years has reasserted the need for excellence and future focus in social work education. It demands a diverse, supportive learning community, which equips future social workers through hands-on fieldwork and expert instruction to apply their knowledge to emerging issues in the real world.
The U.S. Bureau of Labor Statistics anticipates over 90,500 new social work job openings by the year 2029. Master's degrees overall are correlated with higher salaries and lower unemployment. An MSW degree offers a significant boost in your preparation and positioning to maximize your opportunities in the Social Work field. An MSW degree is a requirement for many clinical positions and social work licensure, which opens up an even wider array of career opportunities.
Recent years have elevated some of the ongoing areas of focus for the field of social work. Preparation for public health disasters, adapting to new service delivery methods, particularly through expanding technology, and addressing long-standing social inequities will be central areas of emphasis for many years to come.
As the future unfolds in surprising ways, it also brings with it new and evolving challenges and opportunities. And so the future of social work will follow suit, again and again demanding innovative, empathetic responses and solutions to whatever problems society faces.
The future of social work is now, as we have come to understand that our work in the present is the foundation of our work in the future.
Face the Future with Florida State University's Online MSW 
Florida State is a pioneer of the online Master of Social Work degree, developing a program that was the first of its kind in the United States. Consistently ranked among the nation's top programs, the online MSW offers you a top-tier experience in a part-time format that allows you to continue your career as you pursue your degree. Our clear goal is educating and equipping social workers with the skills and character needed to face whatever challenges emerge in the years to come.
FSU offers a Traditional MSW for students new to social work with a bachelor's degree in another field. The Advanced Standing MSW is designed for students who hold a bachelor's degree in social work. Both programs are focused on the application of academic principles to real-world settings. The online format allows you to earn your degree from one of the nation's top-ranked and most distinguished programs, no matter where you live. You also will learn alongside a diverse, student-centered community from Florida State's engaged, caring expert faculty.
It is also an exciting time in the Florida State community. FSU leadership has launched the Big Bets initiative, a university-wide push to fuel informed research and training to tackle society's biggest future questions and challenges. FSU Vice President for Research Laurel Fulkerson emphasized the future-facing nature of the endeavor, describing Big Bets as an effort to "...connect our centers to big thinkers with big ideas about changing the world." 
Two of the three initial focus areas of Big Bets involve the College of Social Work: 
These centers and their faculty are looking to transform the future through research by creating resilient infrastructure, improving reading instruction and redefining the criminal justice system. The Big Bets initiative is one of many ways Florida State actively engages with the changing needs of communities and prepares students to do the same by contributing to real, lasting change.
Join us as we prepare to face the future's challenges and broaden your social work career horizons with an Online MSW from Florida State University. Hear from our students: