Social Work Self-Care: Why It Matters and How to Get Started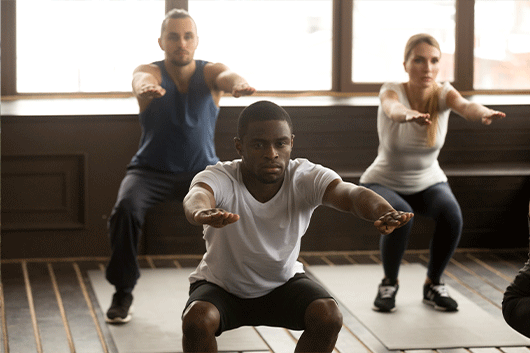 Each day, social workers are finding new ways to learn, serve, and advocate for our communities, continually pouring time and energy into caring for people. Self-care activities are also important—but the demands of daily life often keep you from making time for yourself.
How can you recharge and gain a balanced perspective? This blog offers self-care ideas that fit your life.
Why Social Work Self-Care
 Is Essential
Keeping yourself physically and emotionally healthy is important for your own happiness and contentment, but it also means that you'll have more to give to others. Self-care activities are a valuable investment in your well-being, the well-being of others, and even in your professional performance.
As you explore the possibility of advancing your career by earning a Master of Social Work (MSW) degree, it is especially important to consider how you'll practice self-care. Managing a job, schoolwork, and other commitments will bring new opportunities and challenges. Taking care of yourself will equip you to keep moving toward your goals.
A recent feature in Prevention magazine describes self-care as "taking time away from your responsibilities to make sure you—heart, soul and body—have what you need to handle another day." Self-care not only makes you feel better, but it also boosts your brain and body power, leading to better stress management.
Cognitive Function and Productivity
Have you ever experienced mental fatigue or brain fog? Practicing common self-care habits is linked to improved cognitive function, so you're better equipped to do your work. A recent Harvard Health report describes such routines as the key for optimal brain health and fitness.
Respite from stressors and anxiety allows the brain to recharge as stress hormones drop. Maintaining healthy chemistry improves memory and concentration and protects against anxiety and mood swings. Since self-care helps to keep your brain operating smoothly, you'll increase your capacity to focus and achieve greater output.
Increased Physical Energy 
Learning to manage stress can sharpen your mental clarity and help you feel stronger. Stress is often linked with physical exhaustion because it leads to an overactive mind, disrupted sleep, and even low-grade inflammation. Controlling stress, on the other hand, is a natural way to increase stamina.
According to an interview with Sarah Meyer Tapia, Associate Director of Wellness Education at Stanford University, practicing self-care activities restores energy and boosts vitality. With increased get-up-and-go, we can accomplish more. Think of it as adding time to your day!
Compassion for Self and Others
The same extraordinary care social workers show their communities should also be practiced personally— on a regular basis. NASW reminds social workers, "When delivering compassionate, competent, and ethical social work practice, engaging in professional self-care is an essential component." According to a study from the National Institutes of Health, being mindful of and practicing resilience has resulted in "compassion satisfaction."
Coursework in the Florida State online MSW degree program equips you with comprehensive knowledge and clinical skills for practicing social work. Practical experience will better prepare you for the future and how to handle challenges that may arise. Fieldwork opportunities with experienced mentors are built into the MSW program, giving you real-life context for learning to take care of yourself as you work.

 
Practical Self-Care Ideas
Recognizing the life-giving potential of self-care, how do we take the crucial steps to make different types of self-care a normal part of our lives? 
Stay Connected
Dr. Henry Cloud, esteemed expert on leadership and New York Times bestselling author, describes the "power of the other" in achieving goals. He identifies relationships as "the most important ingredient" in overcoming our limitations. Staying connected with friends, family, professional associates, and support systems is indispensable in keeping yourself motivated and fully charged.
Professional organizations or peer groups allow you to establish professional relationships for sharing expertise, resources, and insights. Effective teamwork relationships empower you to accomplish more as you share the load and benefit from one another's respective strengths.
Simply participating in group activities or initiatives is likely not sufficient for the burdens you may be carrying. It is also crucial to talk to someone about how you're feeling and how you're processing those emotions. Engage a trusted confidante to share your deeper concerns and personal struggles openly. 
Set Limits
Guarding both your schedule and your emotional health allows you to focus on what's most important. Recognize your time limitations and plan ahead to keep yourself on track. Prioritizing daily tasks will help you to avoid procrastination and keep you in balance.
Manage your schedule by setting designated times to communicate with colleagues, set appointments with clients, and set a time to check out for the day both mentally and physically. Maintain emotional limits by establishing healthy relational boundaries with clients, classmates, and coworkers.
As a student in the Florida State MSW degree program, the online format allows you to organize and complete your work around your schedule. You'll plan your courses on a timeline that works for you, and a Student Success Advisor will be with you every step of the way.
Get Moving
The CDC reports that "regular physical activity is one of the most important things you can do for your health." Movement generates a cascade of benefits—brain fitness, mental clarity, improved physical wellness, and even increased capabilities for daily activity.
Choose an activity, or more than one, that you enjoy and will stick to, and incorporate exercise into your weekly schedule. Working out or enjoying recreational outings with a friend is also an opportunity to practice the "stay connected" principle described earlier.
For an even greater boost, take your movement outside. Research shows that outdoor exercise is even more effective than indoor activity in making you feel happy, and the variety promotes physical challenge and motivation. 
Make Time for Rest
Sleep is critical for your daily energy, and getting a full night's rest is vital to keeping your mind and body well. The National Institutes of Health reports that adequate sleep is an integral part of maintaining a healthy weight and preventing serious illnesses such as heart disease, stroke, and diabetes. Psychology experts testify that regular sound sleep promotes emotional regulation, concentration, long-term memory, and ingenuity.
During the day, it is also important to allow yourself "brain breaks." Cleveland Clinic behavioral health psychologist Dr. Scott Bea explains why the mind needs periodic rest to recharge. "Our brains are like sponges," he says. "They can only soak up so much information before they're saturated, then they have to dry out a bit."
Feel Your Feelings
Encouragement from NASW reminds social workers that self-care includes "giving yourself permission to feel your feelings." Practice processing your feelings in a healthy way as you build emotional self-awareness, self-regulation, and self-efficacy. Consistent self-awareness through journaling your thoughts or talking confidentially to a trusted friend or counselor are healthy ways of recognizing and processing emotions.
Do Something You Enjoy
Self-care activities can include hobbies, enjoyable projects, or simple pleasures, whether for a quick 10-minute break or a dedicated afternoon or evening. Make time in your schedule for something enjoyable where you can support your sense of balance and well-being.
Sneak in a little time for whatever it is that puts a smile on your face or allows you a few moments of peace. Take a short walk. Relax by a crackling fire. Savor a favorite food. Turn on music that calms your spirit—or revs you up for a new day!

The Next Step in Your Social Work Career
Pursuing your own professional aspirations is an exciting and significant step in social work self-care. Sharpening your skills and expanding your knowledge of current practices gives you greater confidence and empowers you to navigate the profession's demands.
Completing a master's degree in your field also opens the door to new career possibilities, giving you the opportunity to:
Grow personally and professionally

Increase your earning potential

Find greater fulfillment in your work
Florida State University's online MSW degree program, accredited by the Council on Social Work Education (CSWE), offers two tracks:
Advanced Standing MSW—For students who already have a Bachelor of Social Work
Traditional MSW—For students who have a bachelor's degree in another concentration
FSU's program offers a part-time online format for working professionals. Wherever you are in the United States, you can earn a degree from Florida State, a top-rated institution with a nationally ranked social work program. You'll be set up to connect with your coursework, faculty, and colleagues through FSU's Canvas online interface. 

Throughout your studies and after completing the program, FSU prepares you for success. With access to the College of Social Work's Office of Professional Development and Career Center, you'll benefit from advising, networking on a national scale, and job search resources. 
Discover the difference you can make with an online MSW from Florida State University.
Learn More About Self-Care for Social Workers Below